We are following the current guidance issued by the Church of England, in relation to the Coronavirus (COVID-19) pandemic. For information, please go to https://www.churchofengland.org/more/media-centre/coronavirus-covid-19-guidance-churches
Church opening
(update 5th Nov)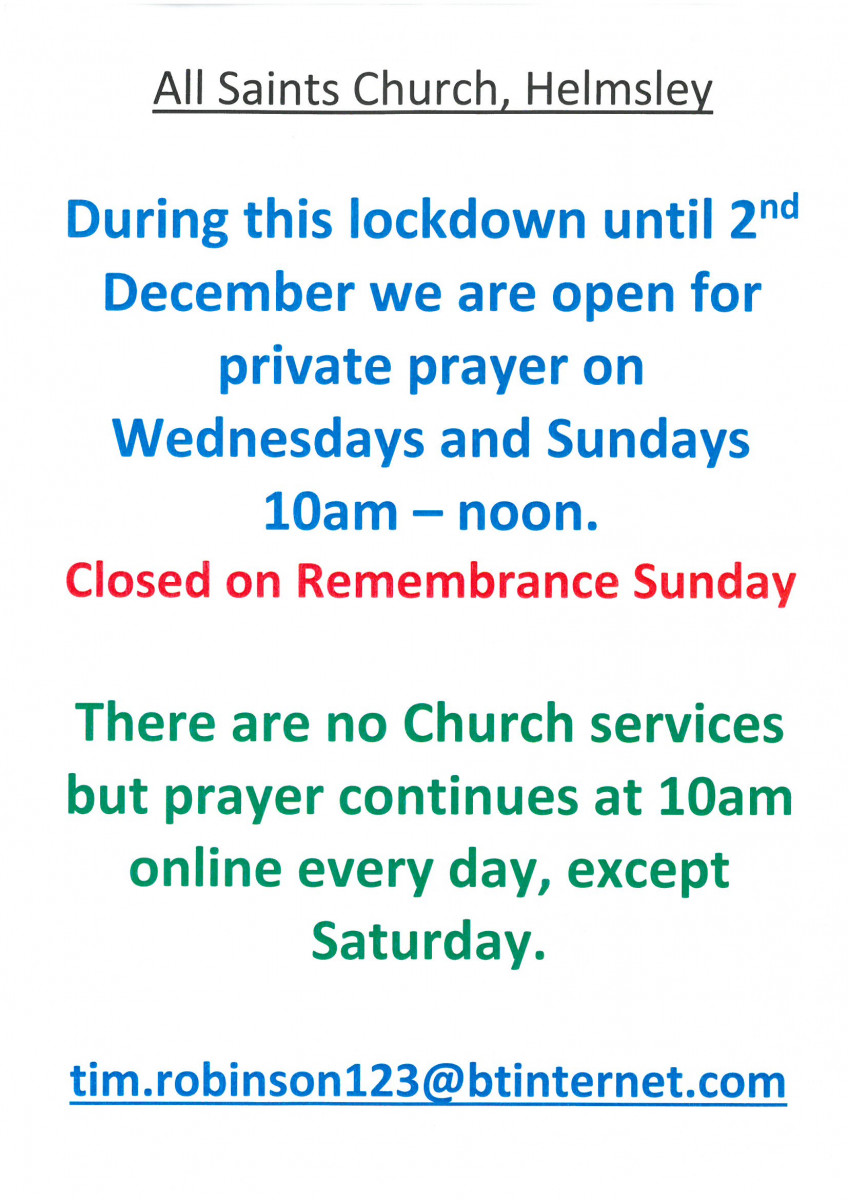 Whilst our churches are closed online Sunday morning worship will be at 10am.
********************************
(22nd October 2020)
Dear friends,
Unusually this year, at this time when we think of our loved ones who have gone before us, we are more generally aware of loss. Even if we haven't directly lost a loved one through Covid-19, we are generally aware of a sense of diminishment and a lack of flourishing for almost everyone, including ourselves.
We know that as human beings loss is something all of us have to face. And the only way through it is to allow ourselves to suffer its pain. For months after my wife Helen died last year I sat on our bed every morning and had a good cry. This became something of a discipline because it was the only way I could keep in touch with grieving whilst continuing to be your vicar. This worked for me, other ways through will be right for other people.
Perhaps part of getting ourselves through the pandemic is to allow ourselves to feel sad and anxious – it is a perfectly human response to the loss and uncertainty we are all undergoing. Perhaps if we allow ourselves to feel these things we might not be overwhelmed by them. Then perhaps we can turn to God and be reassured because God loves each of us. Here are some verses in the Bible to help:
So do not fear, for I am with you; do not be dismayed, for I am your God. I will strengthen you and help you; I will uphold you with my righteous right hand. (Isaiah 41:10)
Do not be anxious about anything, but in every situation, by prayer and petition, with thanksgiving, present your requests to God. (Philippians 4:6)
Come to me, all you who are weary and burdened, and I will give you rest. (Matthew 11:28)
The Lord will keep you from all harm—He will watch over your life; the Lord will watch over your coming and going both now and forevermore. (Psalm 121:7-8).
Peace I leave with you; my peace I give you. I do not give to you as the world gives. Do not let your hearts be troubled and do not be afraid. (John 14:27)
Trust in the Lord with all your heart and lean not on your own understanding; in all your ways submit to Him, and He will make your paths straight. (Proverbs 3:5-6).
Be joyful in hope, patient in affliction, faithful in prayer. (Romans 12:12)
Let us then approach God's throne of grace with confidence, so that we may receive mercy and find grace to help us in our time of need. (Hebrews 4:16)
Be still, and know and that I am God. (Psalm 46:10)
May the Lord bless you and keep you;
May the Lord make his face to shine upon you and be gracious to you;
May the Lord lift up his countenance upon you and give you peace.
And the blessing of God Almighty, Father, Son and Holy Spirit
Be with you always. Amen

Tim Robinson
Sunday online
10.00am Spiritual Holy Communion
Monday – Friday online
10.00am Morning Prayer
Helmsley Church is now open for :
Private prayer and Quiet :
Wednesdays and Sundays 10am–noon
Our services on Zoom will continue Monday - Friday at 10am,
Whilst our churches are closed online Sunday morning worship will be at 10am also.
The Helmsley Herald is available on the website for now.
Services and online worship can be found at:

https://us02web.zoom.us/j/3350032015?pwd=QURZWFZTOXFHRWNsWFdRSnhMd3JvQT09

Password: 625893

If you or people you know who might like to join us by 'phone here are the details:

Ring: 020 3051 2874 Meeting ID: 335 003 2015 Password: 625893
​​​​​​
Lord Jesus Christ,
you taught us to love our neighbour,
and to care for those in need
as if we were caring for you.
In this time of anxiety, give us strength
to comfort the fearful, to tend the sick,
and to assure the isolated
of our love, and your love,
for your name's sake.
Amen.
Helmsley Parish in the Diocese of York
Helmsley's parish church, dedicated to All Saints, dates back a thousand years and more. The present building , built on Norman foundations, was dedicated in 1838. Helmsley Parish also includes Anglican churches at East Moors, Rievaulx and Sproxton.
On Sundays in Helmsley there are two well-attended services and a regular midweek Holy Communion. Locals and visitors alike, of all traditions, are always very welcome to all our services. After Sunday's main 9.30 am service at Helmsley there is an opportunity to meet one another over refreshments.
Helmsley Church is open every day as a place of interest and for private prayer from 9am - 5pm (summer) and 9am - 4pm (winter). St Columba's Chapel, in the south transept, has votive candles to aid people's own particular prayers.
A Christian church has existed in Helmsley since AD 200, according to the 19th century wall-paintings in the north aisle. Certainly there was one on this site by the time of the Norman Conquest. (There's a 10th century hog-back tombstone in the porch and an entry in the Domesday Book of 1086.) The present building's splendid chancel arch, one of the largest in Yorkshire, dates from the 12th century (as does its counterpart over the entrance). Otherwise the handsome present day building is largely the result of major restoration in Victorian times, with the stained glass as well as the murals from this period too.
All this variety of history and interest makes Helmsley Church a very special place to visit and worship in. More information about our other churches is elsewhere on the website.