Dear friends,
Hoping
I know that Lent is supposed to be all about giving things up and being more prayerful. We might do the first and we should most certainly do the second.
But perhaps more important is to remain hopeful, as a Christian, as a human being.
Why? Because Jesus rose from the dead. And whatever season we are celebrating our fundamental attitude as Christians has to be one of hopefulness. Jesus rose from the dead to show us that even in times of darkness there is light, somewhere. 'God is light, in him there is no darkness at all.' (1 John 1.5).
I am sure those of you who profess to be Christians have that attitude of hoping. However you feel personally, and we all feel less than positive sometimes, our outward expression, certainly beyond our very close family and friends, should always be one of hopefulness and joy. Easier said than done I know, but most things that are worthwhile are. I have been hugely impressed recently by a number of people who have suffered great loss striving to look forward with courage and hope. They are truly blessed and such good examples to all of us.
May God bless us and keep us.
Tim Robinson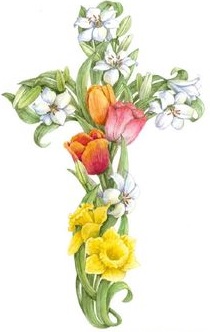 Helmsley Parish in the Diocese of York
Helmsley's parish church, dedicated to All Saints, dates back a thousand years and more. The present building , built on Norman foundations, was dedicated in 1838. Helmsley Parish also includes Anglican churches at Ea

st Moors, Rievaulx and Sproxton.
On Sundays in Helmsley there are two well-attended services and a regular midweek Holy Communion. Locals and visitors alike, of all traditions, are always very welcome to all our services. After Sunday's main 9.30 am service at Helmsley there is an opportunity to meet one another over refreshments.
Helmsley Church is open every day as a place of interest and for private prayer from 9am - 5pm (summer) and 9am - 4pm (winter). St Columba's Chapel, in the south transept, has votive candles to aid people's own particular prayers.
A Christian church has existed in Helmsley since AD 200, according to the 19th century wall-paintings in the north aisle. Certainly there was one on this site by the time of the Norman Conquest. (There's a 10th century hog-back tombstone in the porch and an entry in the Domesday Book of 1086.) The present building's splendid chancel arch, one of the largest in Yorkshire, dates from the 12th century (as does its counterpart over the entrance). Otherwise the handsome present day building is largely the result of major restoration in Victorian times, with the stained glass as well as the murals from this period too. All this variety of history and interest makes Helmsley Church a very special place to visit and worship in. More information about our other churches is elsewhere on the website.
Listen to a short welcome message from our vicar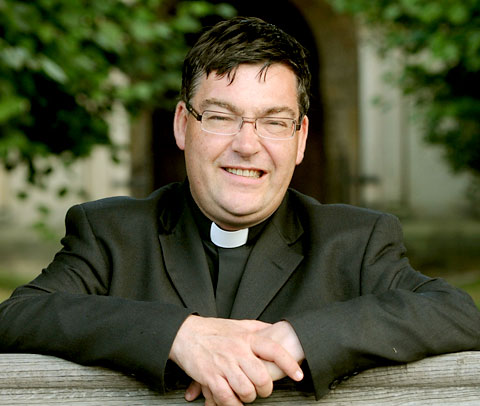 Tim Robinson, our vicar, says: "I love being vicar here. Helmsley is a great community and I aim to serve everyone here be they part of the Church or not. Members of the congregation and I work with other community organisations for the common good. We have a special relationship with Helmsley in Business. Recently I accompanied the Archbishop of York (on his Pilgrimage of Prayer, Witness and Blessing around the Diocese) to celebrate Helmsley's win as best Market Town in the Great British High Street competition at the The Feathers Hotel before he answered questions at an event called 'What's on your Mind' at Helmsley Church.
"We are delighted you have taken the trouble to look at our website. We hope you will come and visit us soon."